August 19, 2018
Reece is a Freshman here at Bible School
It feels strange for Dave, Clark & I in our new lives as 3, but we are super happy for Reece to move into the dorm!! He is 100% excited for these next 2 years and EVERYTHING that God has planned for him.
Classes start tomorrow!!
Dorm Room leadership
Each dorm room has an RA, and they just finished a week-long leadership camping trip. We loved being able to join them and get to know these AMAZING men and women who are so in love with the Lord and love serving. We just shake our heads at their strong faith and love being able to know them.
Dave will continue his Masters degree
Last year was busy for Dave as he taught full time here at Bible School, oversaw the teaching team, studied for his Masters, and life here with the students etc. But we have found some ideas to add margin back into his schedule, while continuing his next class at Trinity. We will keep our eyes open for overload. Please pray for wisdom and strength as Dave and studies what he loves so that he can better teach the students here.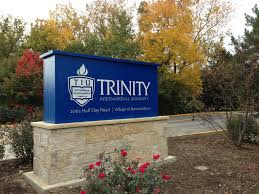 Clark is in 10th grade!
Clark will be doing on-line school at home this year and we are so thankful we get to have him with us! He is super excited to get to know the 15 guys and girls that are in our dorm family this year! Clark loves every chance he gets to hang out with the students! It's going to be a GREAT year!!
What will I do this year?
I'll bake cookies and text Reece that cookies are ready and to bring his dorm room down for coffee and cookies. 🙂 (It worked the 1st time:) I'll also keep busy helping in child-care so student moms can go to classes, and I'll help at the front desk answering phones. I also look forward to teaching Clark well, as these years with him home are priceless. I will also enjoy investing in my dorm girls.
We are off to a new year full of transition and excitement!! Thank you for being our friends and prayer warriors…we need it!!
Dave, Kim, Reece & Clark Field